Inclusion of women for empowering them needs to take place at multi levels and Jana Urban Foundation understands that. They know that with economic security, women also need social and emotional security to feel empowered. Therefore, Janalakshmi Financial Services works towards women empowerment using a holistic approach. One of their objectives is to tackle Violence Against Women (VAW). In India more than 3 lakhs of cases of crime against women are reported each year. There are many such cases too which go unreported due to societal pressure. Although the constitution provides women with several rights and legal provisions, but they are rarely practiced in society.
It is essential that the corporates and civil society organizations come forward and work for the benefits of women. In view of this, Jana Foundation has been trying to understand and eradicate the challenges that Indian women face to achieve their full potential. The foundation provides financial help, vocational skill training and also spreads social awareness.
The approach of their programs is simple and effective. The company's CSR reach out to people through partner NGOs who share the same vision. The NGOs bring in prior experience, specialized knowledge and established track record while the CSR policy provides structure to the project. The project began with an on-ground assessment and undertakes regular evaluation to regulate expenses and to cover maximum beneficiaries. As a project sponsor/corporate, Jana Foundation also personally interacts with the beneficiaries to understand their concerns and make the strategies more effective.
One of the company's projects addresses the issue of violence against women in Hosur, Tamil Nadu.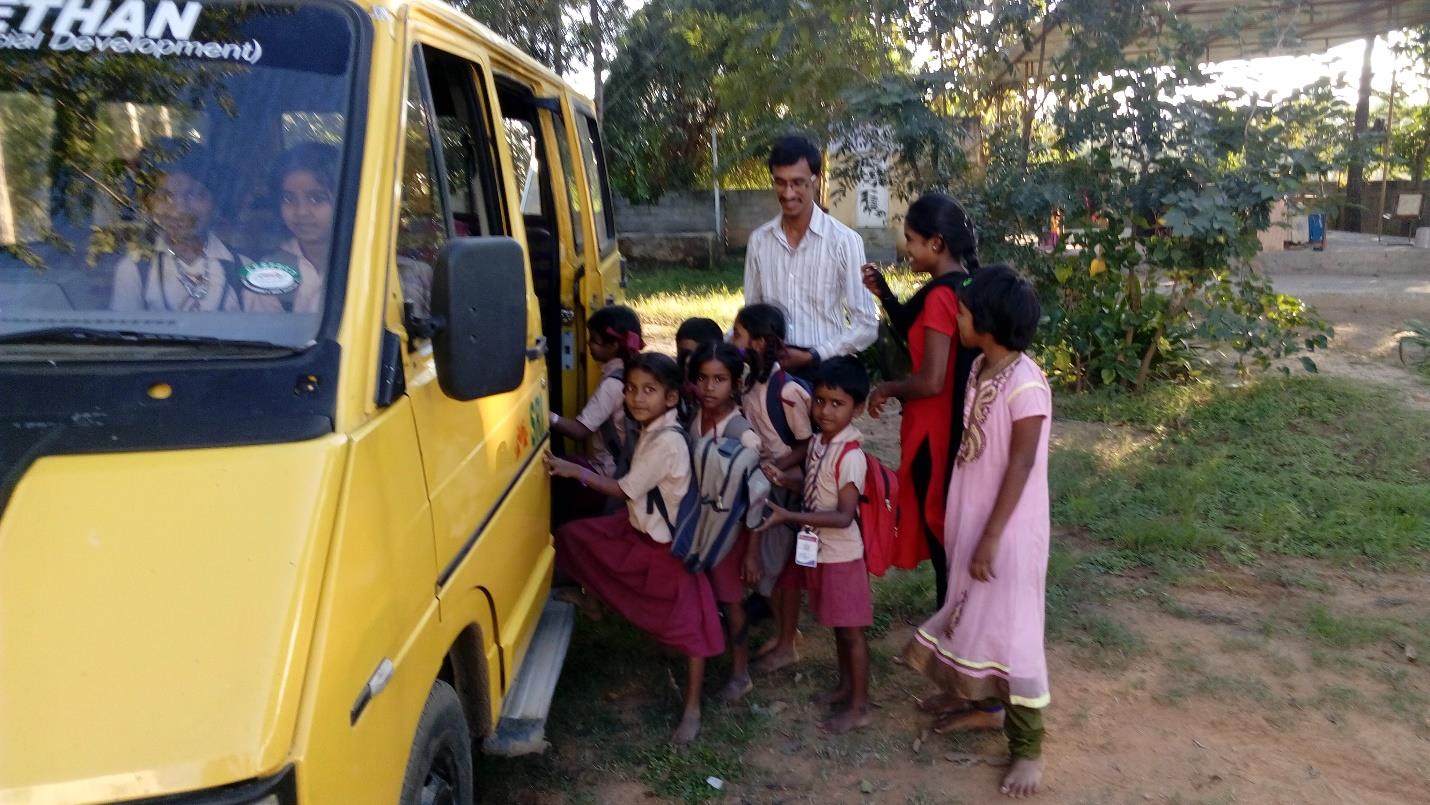 The 54 beneficiaries of the project are the rescue girls living in Margasusi Children's Home of Vidyaniketan who were mainly a victim of sexual abuse, child marriage or child labour and are daughters of sex workers. Lack of funds had almost shut down the Children's home at Hosur as there was no money to support the various operational costs involved for running the hostel. But then, the hope came from Jana Foundation's CSR who were actively looking for partners working on the issues of VAW. In 2014 Janalakshmi decided to sponsor the Children's Home so that the girls continue staying in the safe environment and do not need to go back to the same place from where they were rescued.
Janalakshmi works with Vidyaniketan to ensure a safe and nurturing environment for these girls by providing the food, formal education by enrolling them into government schools, medical treatment, sport and recreation activities etc. The girls are also provided a trained in-house child counsellor to ensure their psychological wellbeing. The team at the Children's Home consists of wardens, child counsellor, cooks, security guards, driver and an after school tuition teacher.
After attaining 18 years of age, the girls go on to pursue further education or seek respectful jobs. 7 girls have completed class 12th, 3 of whom are pursuing BSc. in Nursing, 1 is studying Fashion technology, 1 is working in a clerical role in a textile industry and 2 are pursuing training as lab technicians. One of the young girls topped her school in class 10th.The girls are shinning bright in Non academics too. 1 of them won the zone level chess tournament while many are extremely good in football.
Along with that, the society around them is made aware of the rights of these children to live a normal life and their mothers are also encouraged to opt for other livelihood options. They are provided training in tailoring, jewellery making, soap making, pickle making, and snack making and are encouraged to open their own small enterprise. Out of the 54 mothers, 12 have started practicing alternative livelihoods.
With the positive impact seen at Hosur, Janalakshmi extended its work to Gwalior, Madhya Pradesh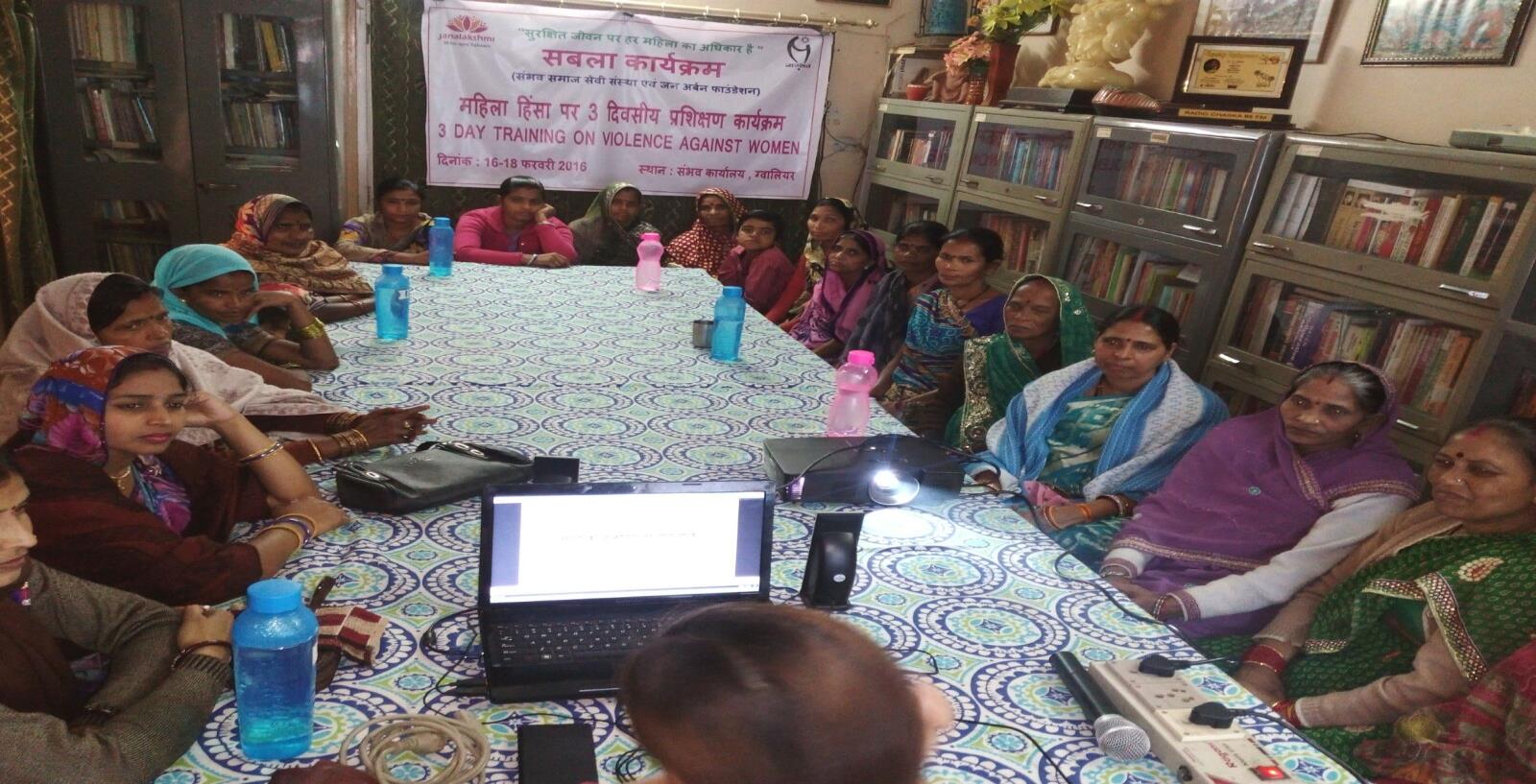 which notoriously has a bad reputation when it comes to women safety. Here, Jana foundation has partnered with Sambhav Social Service Organization and works with 20 urban slums where violence against women was found extremely high. Women are made aware about the different types of abuse against them and are encouraged to come forward to a public forum comprising of several other victims like them and report about the act of violence against them. Involvement of men is also essential to address the issues of VAW.
A legal aid centre has also been established to give legal advices to the victims and provide counselling and out of court settlement to them. Around 490 cases have been dealt about by the legal Aid centres so far which include cases of domestic violence, dowry demand and dowry deaths, sexual harassment, rapes, second marriage, mental torture, acid attacks, cybercrime etc.
The project also aims at making drinking water, sanitation and street lighting available to reduce the crime instances in these areas. The women groups have requested construction of 29 household toilets from the commissioner of the municipal corporation. The women have clearly stated the threat of sexual harassment that they face when they go into open fields for defecation. The impact of the project can be seen in the increased number of such women who take action against the abusers by speaking up against them and preventing or reporting occurrences by dialling the women helpline numbers, filling FIRs and reaching out to the police. However, the program still faces many hurdles in the form of community resistance and risk of increased violence against women. To make an enabling environment, the program involves local leaders and collaborates government departments like the Women and Child Department, Police, legal services etc.
Janalakshmi also has plans further scaling up with the help of implementing partners. One of the beliefs of the Foundation is to be adamant about human ethics under all circumstances. For this, the Foundation constantly works on building a team that can handle such projects with care and sensitivity. To overcome the barrier in community acceptance, the foundation lays its projects based on locally relevant models. The community seeks relevance with the communication model and the social problem in hand. The foundation wants to get the local collective of women "Mahila Adhikaar Panchayat" the status of a community based organization so that the aware women can demand access to basic services by taking ownership in their own hands and also independently take actions when the need arises.
(Jana Foundation's CSR initiatives were awarded NGOBOX's 3rd CSR Impact Awards in Women Empowerment category and Jury members were highly impressed with the Foundation's work. CSR Impact Awards are annual awards hosted by NGOBOX and given away in annual India CSR Summit after two stage assessment of applications.)
Comments