CSR Projects in Livelihood in India in FY 19-20 (New)
NGOBOX and CSRBOX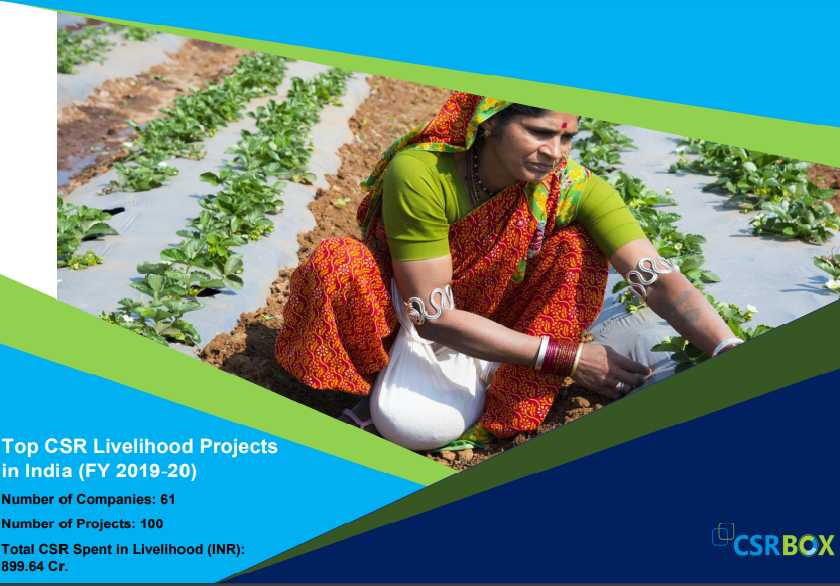 Project implementation period: FY 2019-20
-61 Public Listed Companies
-Covers top 100 projects in Livelihood
-Total CSR Spent in Livelihood: INR 899.64 Cr. on 100 Projects
-Information about each project, its budget, partners and geo-locations
The booklet covers:
Name and addresses of Companies

Industrial Sector

Prescribed CSR of the Companies (INR Cr.)

Actual CSR of the Companies (INR Cr.)

CSR Project Title

Project Description

Target Group

Sub Thematic Areas

Amount spent (INR Cr.)

State and district wise location

Implementing Partners details
The document helps NGOs, CSR project implementing agencies and advisory firms to identify companies and their interest areas for potential CSR partnerships. It also helps other companies to understand how India's top companies are implementing CSR projects in Livelihood.
Published in-December 2020
(Once you make the payment, you can download the ebook from the dashboard. For any query, please send an email to ngobox2012@gmail.com. In case you need the excel-sheet of the database there is additional fee of INR 9000 plus taxes)
Published :
2020
Published by :
NGOBOX and CSRBOX
Shipping Charges :
0 INR
Delivery In :
0 days
Tags
Livelihood
Product Id : 204
ISBN : NA
Edition : December 2020
Language : English
Book Pages : 86
Book Type : E-book
More Products
© Renalysis Consultants Pvt Ltd