Telangana Girl Helps 200 Underprivileged Families by Building Low-Cost Homes From Sewage Pipes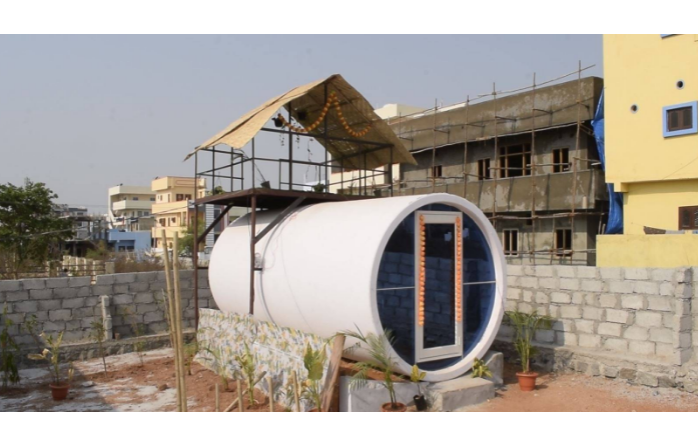 Samnavi Constructions
India is one of the fastest-growing countries in the world. However, a study published in 2019 suggests that over 63 million people do not have adequate access to housing.
While many live in temporary houses such as straw huts, others live in discarded shipping containers that are not suitable for extreme weather conditions. This forces them to constantly relocate or renovate their homes.
To address this issue and bring respite to the underprivileged people, Perala Manasa Reddy (24) a resident of Bommakal village in Telangana has innovated a pod-style house in India. It is not only low-cost but only takes 15 days to build.
"The houses are constructed using large drainage pipes. They are procured directly from a manufacturer who also resizes the same. Though they are circular, it is spacious for a family of two or three. The pipes can be constructed as 1, 2, or 3BHK depending on the requirement," says Manasa, a graduate of civil engineering from Lovely Professional University (LPU), Punjab.
Understanding struggles
Growing up in a remote area, Manasa witnessed the struggle of people living in temporary housing.
"I witnessed many families, with children, living in temporary houses. They were made of steel sheets and plastic covers. Some houses were made of bamboo and even shipping containers. The people living here were migrant workers and they would never stay in the same home for more than one year. Either they would vacate because of work or unsuitable climatic conditions," says Manasa.
Though she witnessed such hardships, she was unable to do anything. But, in March 2020, when she was pursuing her final year of engineering, Manasa decided to design and plan a solution.
"I noticed several homeless people taking shelter in large sewage pipes placed on the side of the road. I wondered if I could modify the size to suit the needs of an entire family. This way, they would have adequate space for permanent housing," says Manasa.
This design of the pod-style home was finalised after doing months of research. Taking inspiration from low-cost housing models in Japan and Hong Kong, Manasa came up with her own.
Designing the prototype
By the end of 2020, Manasa finalised a manufacturer in Siddipet, Telangana to provide her with pipes to construct a home.
"The manufacturer offered to make the pipes according to my requirements so that I could construct homes. They were made a little larger than usual so that residents would have adequate head-space within the house. Apart from this, I also added a coating of white paint to reflect heat and keep the homes cool," says Manasa.
By borrowing Rs 5 lakhs from her mother, Manasa also procured window frames, bathroom fitting, and more. The construction began in March 2021 on a plot of land provided by Manasa's relatives. By March 28, a low-cost 1 BHK O-Pod was ready to move in.
"The house is 16 ft long and 7ft tall. It has a small living room, a bathroom, kitchen, and a sink. There is also a bedroom that can fit a queen-size mattress," says Manasa.
To test whether the house was livable, she convinced a construction worker to stay there for seven days. He was provided with electricity, water, and food.
"Though he enjoyed his stay and said it was comfortable, there was some feedback regarding the placement of the bathroom. He also suggested that extra ventilation through windows would be better. In the following projects these changes were incorporated," says Manasa.
On the same day as the launch of the O-Pod house, Manasa also launched her company Samnavi Constructions. So far, she has received 200 orders from various states including Tamilnadu, Kerala and Odisha.
Visit their website to know more.
Source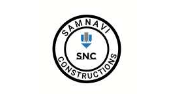 Roshini Muthukumar, a native of Chennai, started her career as a content writer but made a switch to journalism to pursue her passion. She has experience writing about human interest stories, innovative technology, entrepreneurs, research blogs, and more. Previously, Roshini has done internships with The Hindu, Metroplus and worked as a correspondent with The Better India.
© Renalysis Consultants Pvt Ltd