Cleantech Solar's CSR initiatives empower rural communities and facilitate access to clean water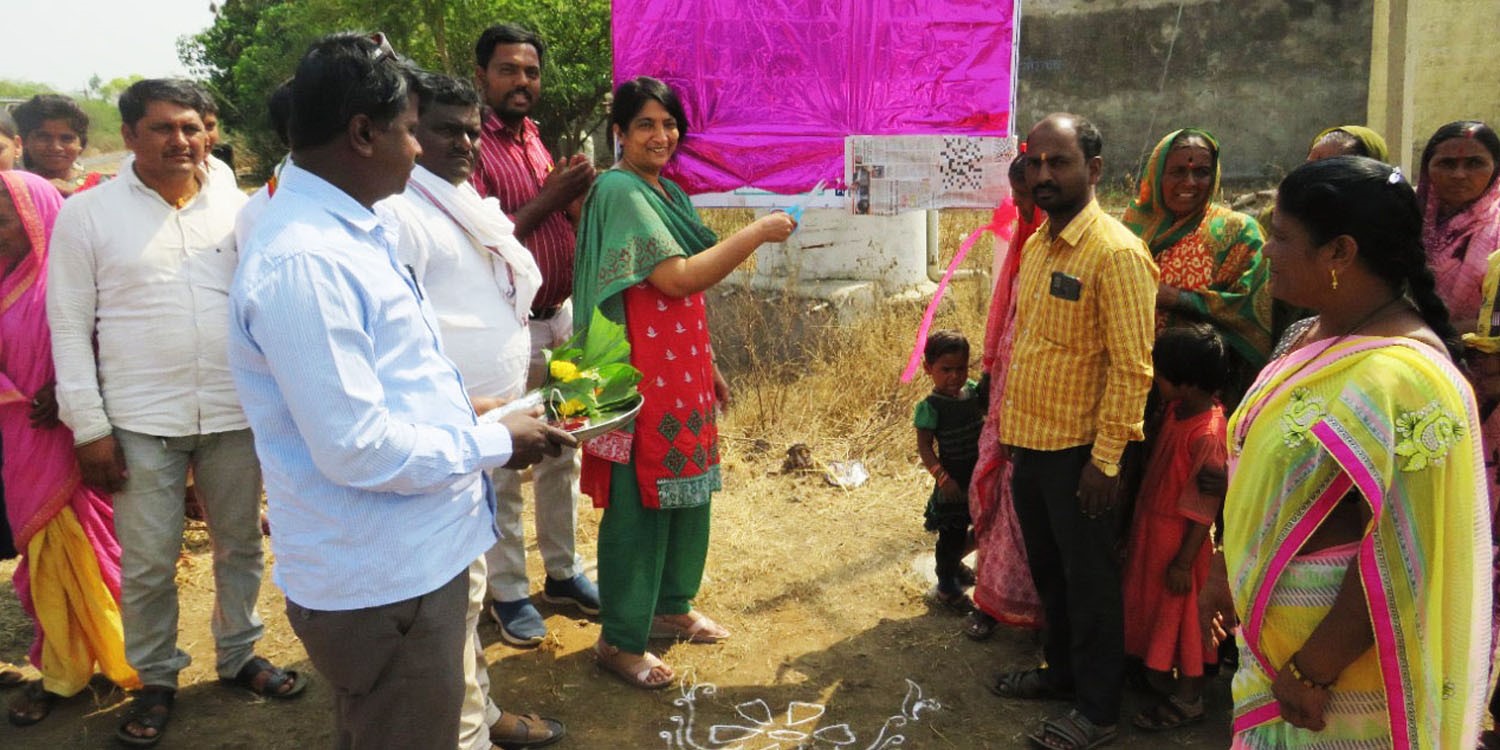 Hatkarwadi, Takalwadi and Bhanakwadi are water scarce villages in Beed district of Maharashtra. These villages practice rain-fed agriculture and mono-cropping. However, given the irregular rainfall in the last three years, several of these villages are faced with extreme poverty and malnutrition. Ninety-six percent of farmers here are small and marginal farmers unable to cope with the pressures of crop failure. Women in particular go through enormous difficulties. They are required to manage household work and contribute financially to the family as well as raise the children. Given the pressures due to failing agriculture, women from Beed often travel to places 400 km away to secure livelihoods. Quite often during peak summer period, most of these villages are deserted as everyone travels outside for work. Lack of sufficient water for drinking and farming is one of the key challenges faced by these villages.
When Cleantech Solar set up its 30 MWp plant at Beed in August 2021, it was keen to undertake some community development activities that would benefit the local communities. Based on Cleantech Solar's detailed consultations with local communities, it decided to set up a rainwater-based stream rejuvenation program to improve the socioeconomic status of women and augment agricultural production in Beed. Cleantech Solar partnered with Dilasa – a Maharashtra-based non-profit, which had prior experience working in drought prone areas.
Community consultations with village members
Dilasa suggested the construction of 'Dohas', which are rainwater harvesting structures built on river beds, as a solution to Beed's thirst for water, accompanied by livelihood development measures. A seven kilometer stretch of a local stream that ran through these villages was selected for deepening and construction of the 'Doha'. The project interventions were designed on three major focus areas:
Conservation of water resources and tackling water scarcity through innovative water-based solutions.

Enhancing access of the villages to land, water and forests, thereby increasing the productivity of these resources

Encouraging and facilitating on-farm and off-farm enterprise development focused on the needs of women.
Further based on field surveys, the following supporting activities were undertaken to ensure long-term sustainability of the program:
Institution Building

Water & Soil Conservation

Social Welfare Activities

Livelihood components
After one year of program implementation (December 2021 to December 2022), the impact of the program is impressive. The CSR project collaboration has yielded several tangible positive results. An impact assessment of the program conducted by Dilasa revealed that financial and agricultural infrastructure support provided to the communities through the project was effective in improving access to water resources, promotion of livestock-based livelihoods and has helped the communities in achieving a better standard of living that is financially and environmentally sustainable. Some of the important benefits of the program are as follows:
A seven-kilometre-long stretch of the local stream was rejuvenated by the Dilasa team. This effort has helped immensely in storing rainwater and recharging groundwater, which is visible in the rise of water levels in the open wells. Drinking water sources have also been recharged to their optimum level and should be able to provide villagers with drinking water through the year.
Construction of Doha – before and after
Water brims over in the Doha after monsoon
Fodder cultivation was undertaken in the local forest area and farmers wasteland covering an area of 20 acres. About 100 farmers received direct benefits through this activity.
To promote horticulture, farmers were encouraged to graft over 7400 saplings of local plant varieties. Of these, approximately 2400 trees were planted along the sides of the Doha. Drumstick trees, which are fast-growing were also planted and provide a steady income to the farmers.
Seedlings to grow kitchen gardens were provided to women from 200 households. While most used the vegetables for household consumption, over 40 women were able to grow surplus vegetables and sell the vegetables in local markets.
---
Beneficiary Experience: Smt. Mandabai Ware's kitchen garden
Mandabai is a resident of Takalwadi village. She has four children and her husband to support. Her husband was not able to contribute much due to lack of agricultural productivity. In 2019, the family's condition was difficult. They did not have even one proper meal a day. She was forced to migrate to a nearby town as a daily wage worker in a sugarcane farm. She had to stay away from her children and the safety of her home.
After Cleantech Solar's program 'Improvement in socio-economic status of women and augmentation of agricultural production through water-based solutions' was implemented by Dilasa, Mandabai is now back in her village. She was one of the beneficiaries and the kitchen garden set up through this program has been extremely useful. Dilasa provided the kitchen garden materials including seedlings, soil and manure, and gave the requisite training to undertake kitchen gardening. She planted tomatoes, brinjal, ladies' finger and some other vegetables. She understood the technical specifications well and planted them in an organised way for a better yield. When her kitchen garden started producing vegetables, she made a small profit of Rs.500 every week through sale of the vegetables. This has motivated her to spend more time and effort in maintaining her kitchen garden. It is now a source of livelihood and food security for her family. Moreover, she is earning as much as she did through her daily wage labour without having to step out of the comfort of her home.
---
Women receiving kitchen garden kits
The project has established two community information centres at Bhanakwadi and Hatkarwadi. The local communities can now access information related to government schemes and services and with other information-related public services due to internet connectivity and printers being available. Further, one of these centres promotes micro entrepreneurship activities to include beekeeping, goat-rearing and modern agricultural techniques to enhance agricultural productivity.
Villagers and members from the Dilasa Team at the Community Information Centre in Bhanakwadi
To promote livestock management, 100 female goats and 10 male goats have been provided to 50 women from the three villages who have been trained in goat farming.
Women receiving goats for goat farming
This year-long project has been successful in creating self-sustaining models of development that have been indigenously developed and address critical issues around water and livelihoods through women's empowerment.
Thus, it is evident that empowering local communities and making them co-contributors in their own development process by providing opportunities, resources and skills is the best way forward to pull out farmers caught in the rural drought crisis.
Neighbouring villages are also demanding that the Dilasa model be extended to their villages. Cleantech Solar's efforts have brought smiles on the villagers' faces, and they can look forward to a water secure future.
About Cleantech Solar (www.cleantechsolar.com):
Cleantech Solar is a pan-Asia supplier of renewable energy to corporates, combining the capabilities of a global player with responsiveness and agility.
Headquartered in Singapore, Cleantech Solar has numerous solar power plants across India and Southeast Asia, covering over 750 MW across the various stages of operations and construction with many more solar and wind projects under development. This includes installations in India, Singapore, Cambodia, Indonesia, Malaysia, Thailand and Vietnam.
The company is backed by long-term strategic shareholders – Keppel Corporation, Keppel Asia Infrastructure Fund and Shell Eastern Petroleum.
The company helps corporations to meet their sustainability goals, offering them a unique combination of:
Adherence to highest standards of corporate governance ensuring successful long-term partnerships

Leading technical expertise with proven ability to deliver safe, high-quality projects

Experienced local teams in each market with in-depth understanding of regulatory landscape and customer requirements enabling tailor-made solutions

Interactive real-time data visuals and analytics enabling comprehensive monitoring and maintenance of our renewable energy plants, facilitating customer involvement through project life
© Renalysis Consultants Pvt Ltd