Delhi Education Minister launched Report on Arts Curriculum by NalandaWay Foundation for Students from Underserved Communities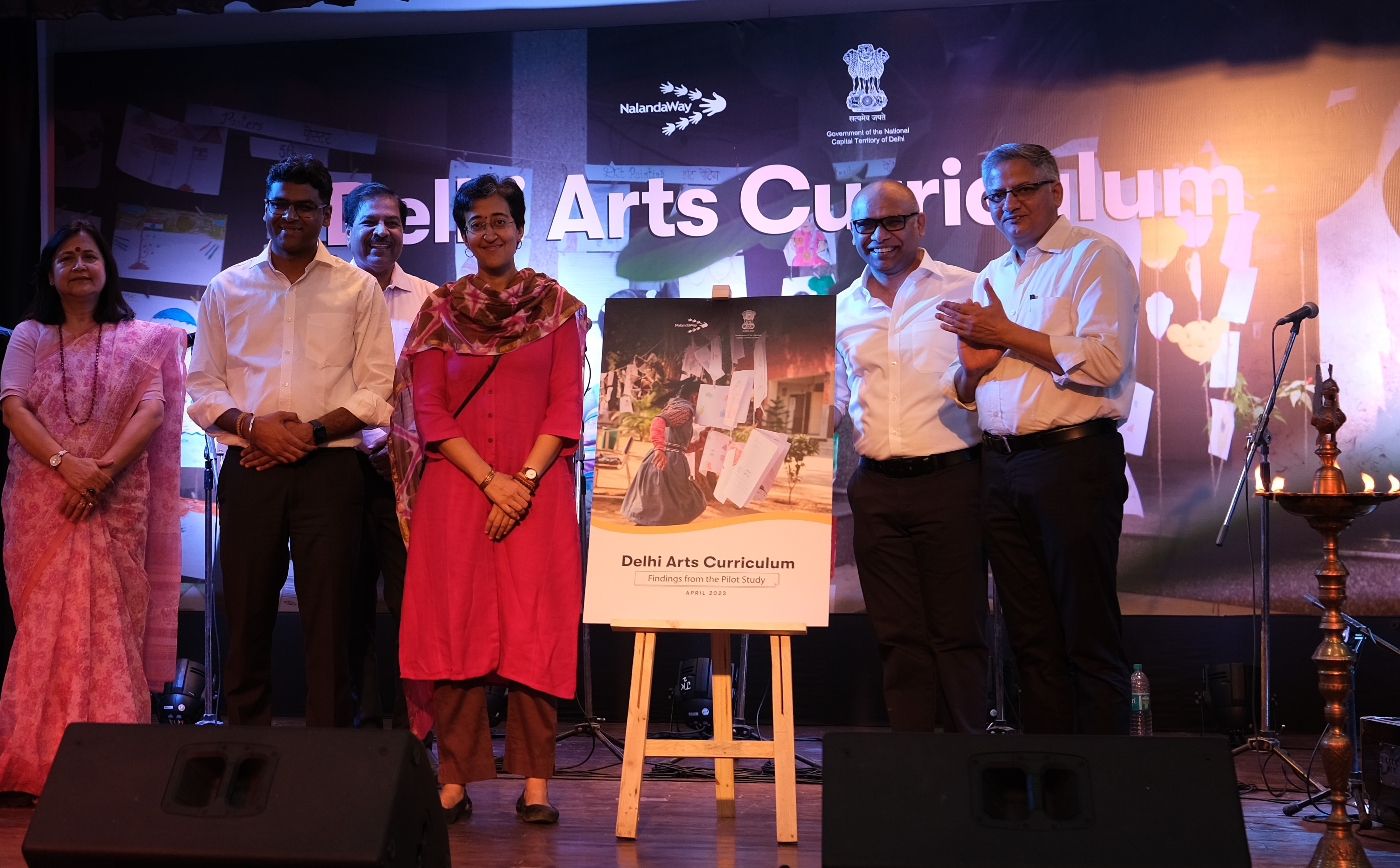 Delhi Education Minister Ms. Atishi today launched Delhi Arts Curriculum report on the innovative arts curriculum developed by the NalandaWay Foundation for students from underserved communities in Delhi. The report promises to provide valuable insights into the transformative impact of art-based education.
The Delhi Arts Curriculum, which was piloted in nine government schools in Delhi has transformed the lives of 3980 students and 89 teachers and has enabled students aged three to ten to develop specific competencies in five different art forms, including visual arts, music, dance, theatre, and media arts. In addition to fostering creative abilities, the curriculum also focuses on the development of social-emotional skills that are crucial for success in life.
The report launch event was held at Sarvodaya Bal Vidyalaya at Rouse Avenue, New Delhi, and included an art exhibit featuring an installation created by the students, as well as other artwork produced during the pilot project. The event is open to the public from 10 am to 6 pm on Wednesday 19th April 2023
The NalandaWay Foundation's collaboration with the Directorate of Education, GNCTD has transformed schools into vibrant and artful spaces that enable creative exploration for both students and teachers. The report launch event is an excellent opportunity to witness the transformative power of art-based education and gain valuable insights into its impact on underserved communities.
Sriram V, Founder & CEO, NalandaWay Foundation: NalandaWay has always believed in the transformative power of the arts, "For us, arts have been a key driver for social change. 3 years ago, when we signed the MoU with the Delhi government to introduce an arts curriculum in government schools, we used the opportunity to introduce visual arts, music, theatre, dance, and media arts every day for all ages from all ages 3 to 13 years. At the end of the artful academic year, we were thrilled by the outcomes for children as well as teachers. The arts curriculum led children to appreciate art, learn art skills and improve socioemotional skills- an increase in student attendance, participation, confidence, and social skills was observed; while for the teachers, it led to improved creative confidence in teaching arts."

He continued, "Following this pilot project, we now plan to continue our partnership with the Delhi government for the next phase of scale, by training government teachers on art-based skills and other recommendations cited in the report. This is informed from our work across State governments, including that of Tamil Nadu, Kerala, Bihar, Jharkhand and J&K. Over the last 16 years, NalandaWay Foundation's work in urban slums, anganwadis, children's homes, rural panchayat, government and corporation schools across the country has benefited more than 5 million (50,00,000) vulnerable children. This is a step in taking it to every child in the national capital of Delhi."
© Renalysis Consultants Pvt Ltd