IIT Kanpur to launch haptic smart watch for blind, visually impaired
By NGOBOX
February 3, 2023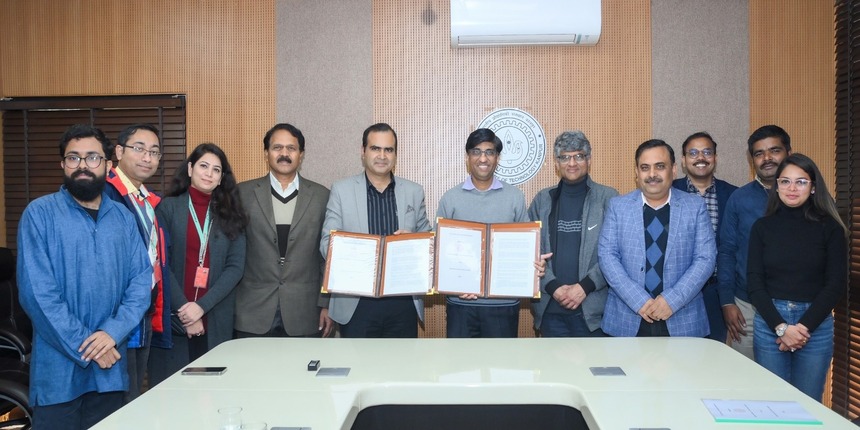 The Indian Institute of Technology Kanpur (IITK) enters a technology transfer with Ambrane India Private Limited to mass manufacture and sell haptic smart watch for blind and visually impaired. The device was developed by IITK, national centre for flexible electronics, Siddhartha Panda and Viswaraj Srivastava.
The haptic watch by IIT Kanpur has 12 touch sensitive hour markers on the dial face that can be scanned with the users' fingers. A vibration pulse is generated on touch on certain markers, a ling vibration for hour and short pulse indicating minutes.
The watch is a fusion of tactile and vibration watches. The researchers at IIT Kanpur created the watch to generate 2 pulses as compared to current watches that are audio-based and lack privacy. "The complexity of vibration watch generating more than 20 pulses has been reduced to 2 pulses, and the fragile nature of a tactile watch is eliminated, thus resulting in a simple- to-use, private, affordable, and robust watch," read a press statement,
This haptic watch is also equipped with smart features indicating health such as heart rate, step count, hydration reminder and a time by using simple gestures. The centre for flexible electronics at IITK has been working on more such technologies in the assistive domain.
The technology licensing agreement between IIT Kanpur and Ambrane India was signed in the prescence of IIT Kanpur, director, Abhay Karandikar; IITK, dean, research and development, AR Harish; developers Siddhartha Panda and Viswaraj Srivastava; Ambrane India, director, Ashok Rajpal; PIC, innovation and incubation, Anuskh Sharrma.
Upon signing the agreement, IT Kanpur, director, Abhay Karandikar, said: "The development of the haptic smart watch for the visually impaired and the blind is a revolutionary innovation from the team of Prof. Siddhartha Panda and Mr. Vishwaraj Srivastava at NCFlexE, IIT Kanpur. We believe that this watch will make a great social impact by enabling the visually impaired and blind to make seamless use of this technology for everyday usage. The watch will soon be commercialized by Ambrane India and will be available in the market at an affordable price. This development is a testament to IIT Kanpur's commitment to promote inclusivity through novel technology development. I'm confident that this innovation will make a great impact at the national as well as international market.
© Renalysis Consultants Pvt Ltd