Social Change Organizations invited to apply for the 2022 Chat for Impact Accelerator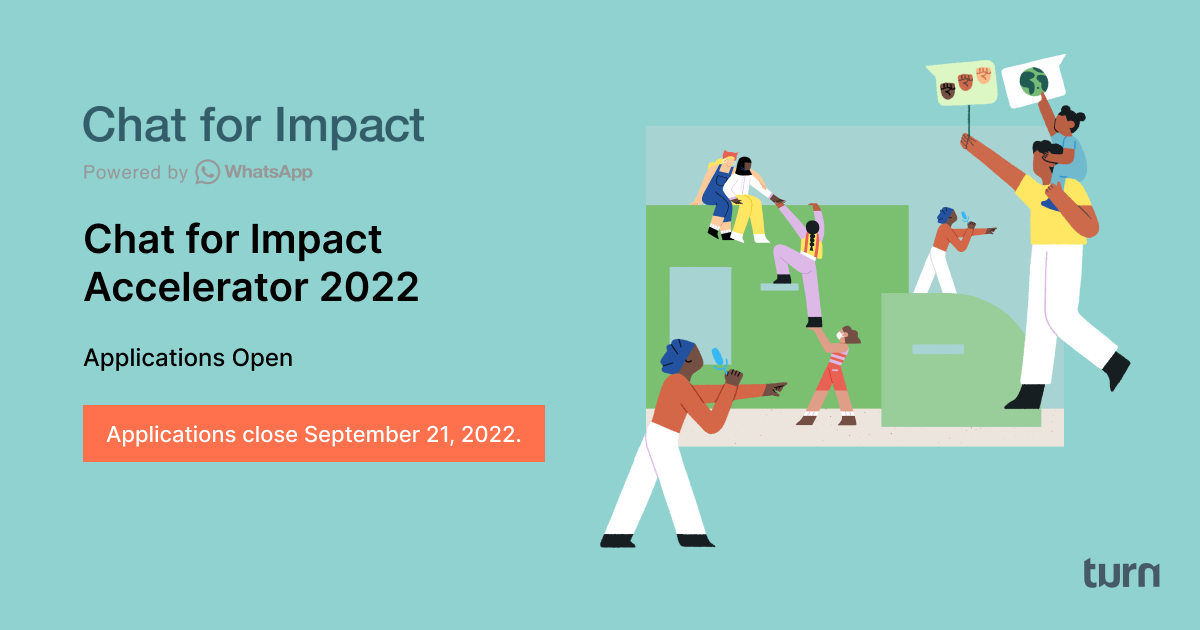 Enterprises focused on social change across the globe are invited to apply for the 2022 Chat for Impact Accelerator that will provide financial assistance, mentorship and support to build a WhatsApp messaging service to scale their impact.
The programme will see 100 organizations take part in one of ten online Chat for Impact Bootcamps that will focus on different regions and areas of social impact. Each of these organizations will be provided with support and services to onboard, design and launch a Chat service on WhatsApp.
Up to twenty organizations will then be selected to receive $25 000 financial support and join the six-week online Chat for Impact Accelerator in October and receive dedicated mentorship to enable them to further develop and scale their WhatsApp service for social change.
The programme culminates in the 2022 Chat for Impact Summit where the chosen Accelerator participants will present and demo their WhatsApp chat service during the event.
The 2022 Chat for Impact Accelerator and Summit is powered by WhatsApp, in partnership with Praekelt.org and Turn.io. The Bootcamps run from July to October 2022 with the Accelerator taking place in October and November 2022
The Chat for Impact initiative was devised to support, accelerate and scale the work that social change enterprises are doing to provide vulnerable, disempowered, and minority communities with easy and secure access to vital information and support via WhatsApp. In 2021 ten organizations joined the first accelerator and successfully launched their chat service on WhatsApp, including Digify Africa, Reach52, Worldreader, Mobile Pathways, Talk2U, Vote.org, SameSame, Ladysmith, StrongMinds and Voices of Venezuela.
"We're thrilled to continue Chat for Impact, in partnership with Praekelt.org and Turn.io, to support and advance the work of social impact organizations across the globe," says Ben Supple, Head of Civic Engagement WhatsApp at Meta. "The Accelerator is an exciting opportunity to dig in with a select number of organizations to scale the reach and impact of their WhatsApp service. We look forward to seeing what these organizations create and the impact they are able to achieve."
"With each chat solution we develop with our partners, we see the incredible ability of chat to reach, engage and connect with communities where they are," adds Gustav Praekelt, Founder of Praekelt.org and co-founder of Turn.io. "We are excited to be once again working with WhatsApp on developing this further with the 2022 Chat for Impact Accelerator and Summit. We are greatly looking forward to working with social change enterprises around the world to significantly enhance their impact through the addition of scalable chat."
Applications close on 21 September 2022. To apply visit https://www.turn.io/community/accelerator
© Renalysis Consultants Pvt Ltd