Thalassemics India celebrates 35 years of service in Thalassemia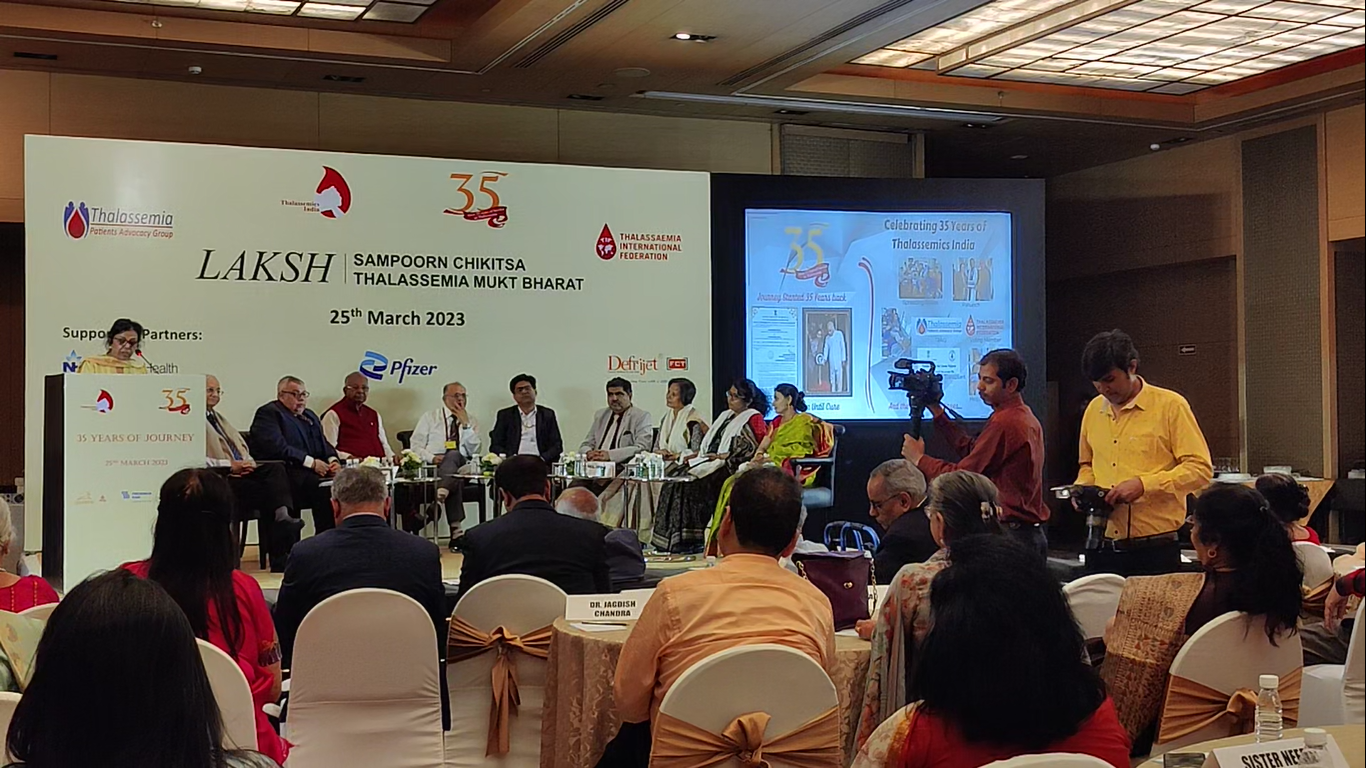 Thalassemics India, the first NGO for Thalassemia established in 1987 in India, recently celebrated its 35th anniversary at Le Meridian, New Delhi. The event witnessed a historic journey of Thalassemics India gracing the theme "LAKSH" highlighting the mission of "Sampoorn Chikitsa" and "Thalassemia Mukt Bharat".
The event was graced to award doctors, patient achievers and caregivers who have worked tirelessly in the field of Thalassemia across the country recognizing them for their achievements. Chief guest Dr. Atul Goel, DGHS & Director NCDC, along with Guests of Honour including Dr. Anil Kumar, Additional Director General of the Ministry of Health and Family (MOHFW) Welfare, Dr. Megha Pravin, Additional Director General of the Ministry of Health and Family Welfare (MOHFW), Dr. Jyoti Rawat, Additional Commissioner in the National Health Mission, Ms. Vinita Srivastava, Adviser Health, Ministry of Tribal Affairs, Mr. Agis Loizou, High Commissioner, Republic of Cyprus and Dr. S.P Boytra, Vice Chairman and Board of Management, Sir Ganga Ram Hospital, New Delhi among others were present to motivate the gathering and give their addresses.
In 2017 individual adults were called to form the Thalassemia Patient Advocacy Group (TPAG), which aims to connect with doctors and authorities to improve patients' quality of life. To show some light on this, Mrs Anubha Taneja Mukherjee, Member Secretary, Thalassemia Patients Advocacy Group (TPAG) said, "We express our gratitude to the National Blood Transfusion Council (NBTC) for extending a special invitation. This gives us an opportunity to contribute our first-hand experiences towards the development of world-class legislation on blood transfusion. We have been tirelessly working to organise blood drives and sponsored NAT testing kits for Thalassemia patients. At this event, we have also learned about the journey and challenges faced by patients and caregiversto continue making steadfastefforts towards eradicating this disease."
The welcome note was addressed by Mr. Deepak Chopra, Founder & President of Thalassemics India shared how the journey started with a meeting between a few parents with Thalassemia at the Indian Red Cross Society Blood Bank. Mr.Chopra said "I feel proud and honoured to announce that we are not only the first to have NGO for Thalassemics, but we also happen to be the first to complete 35 years since we registered as a society. For all these years, we have been trying to make thalassemia a thing of the past with two of our missions "Sampoorn Chikitsa" and "Thalassemia Mukt Bharat". I'm confident that with our continuous efforts, we are, and will be able to spread awareness for the adoption of best practices for thalassemia screening and overall management of thalassemia and blood transfusion in India".
The Secretary of Thalassemics India, Mrs. Shobha Tuli said, "We would like to thank the Ministry of Health and Family Welfare for initiating Thalassemia Bal Seva Yojana in 2017, with the support from COAL India ltd. under its CSR. Till now, 326 bone marrow transplants are done- 139 in the first phase and 187 in the second phase and we hope to continue to do more in the third phase as well. Thalassemics India and a group of other NGOs have approached NHA for adding special treatment packages under the Ayushman Bharat PM-JAY. The ministry should give priority to early thalassemia screening and prevention program all over the country to stop the future births of children with thalassemia". Mrs. Shobha further added, "Vaccinations also need to be included for prevention and treatment of Thalassemia. Patients receiving repeated blood transfusion should receive safe blood as and when required."
About Thalassemics India
Thalassemics India has been in the service of patient care for Thalassemia since 1987. Since 1993, Thalassemics India has been the only voting member from India under Thalassemia International Federation. They have collaborated closely with medical bodies and the Govt. to help bring in the best benefits for Thalassemia Patients.
About TPAG
Recognizing the need and value of advocacy in thalassemia, seven adult thalassemics accomplished in the fields of psychology, law, IT, and education, came together to found Thalassemia Patients Advocacy Group (TPAG) under the aegis of Thalassemics India in 2017. On 16 September 2017, TPAG was formally launched by Mr. Manish Sisodia, Deputy Chief Minister of the National Capital Territory of Delhi.
© Renalysis Consultants Pvt Ltd